At one time or another I'm sure everyone has read, Aesop's Fables; The Tortoise and the Hare. It is the story of a race between a rabbit and a turtle, a common folktale theme in which ingenuity and trickery are put to use to overcome obstacles.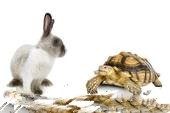 … this isn't that story. This story is about a frantic rabbit, bursting at the seams with one fragmented plot-thought after another.
That is the analogy my co-author tagged us with as she said…
… wait, just wait one minute…picture this; a turtle floating in a puddle paddling around in a circle while some crazy hop happy rabbit skips around the puddle. By the time the methodical turtle gets turned around to follow the crazed rabbit, the damn long eared has changed direction and so the meticulous turtle begins to paddle the other way. I'll catch you, my furry bobtail friend…and so…our persona's!
And it happened one day like this;
Okay, so in chapter two, she has this cat. It's a stuffed cat that scares the crap out of her.
A cat? A stuffed cat?  How does a stuffed cat—.
No. It's not stuffed, but the reader won't know until chapter three.
Won't know what? That it's not stuffed or not a cat?
Just follow me for a minute…
Uh-huh. I'm trying.  Are we talking about a cat?
She knocks the lamp off the bedside. The room plunges into dark.
Are we in chapter two?  I thought it was noon, not midnight. Which she? Where's the cat?
No, no  no. Forget the cat. The moonlight streaming through the room cast shadows and scares her.
What scene please?
Chapter four.  Are you taking notes so we don't forget later?
…Uh sort of…four, huh?
We did that last week, but I got this figured out now. We'll end it all with a car crash.
Wait! With the cat?
What cat?
Never mind, I'll meet you at the car crash site.
---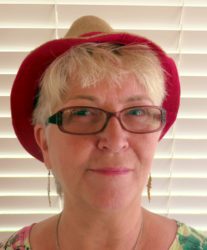 Originally from Massachusetts, Elaine grew up in a small town in a huge house that bordered a cow farm. Growing up in a small town is the original social media – every family knew every family's story. Her background in technical writing provides skills to organize a logical plot. In addition to winning place in the 10th annual Writers Digest short short story competition she has written instructional articles for career professionals, contributed proofing and editing for such publications as The Florida Writer, RPLA, Connections Magazine and the johnyraygun Comic Book by Rich Woodall. Elaine's philosophy is, teach what you know to learn what you don't know.
Both Margarete and Elaine juggle full time careers, family, and pets while they continue to perfect their writing craft.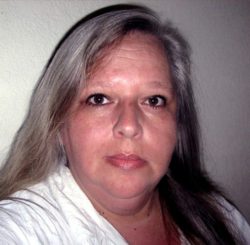 Margarete started writing early in life perfecting English grammar. Some of the first stories she wrote were notes excusing her absence from gym class. Those believable tales spiraled her imagination into short stories she tapped out on an old Smith Corona typewriter. Having lived in Pennsylvania and Montana, she has chosen California as her home and resides near Palm Springs where anything under 80 degrees is sweater weather. She is an avid reader, occasional poet, and if there was a degree to be had for stage fright, she'd have a Master, but give her a keyboard or stubby pencil, and she'll create a world.
Both Margarete and Elaine juggle full time careers, family, and pets while they continue to perfect their writing craft.