Co-authors, Elaine Braman and Margarete Johl have a unique writing collaboration.
They share the passion for writing witty mysteries and thought provoking sci-fi. While plotting through story scenes, heat waves and hot flashes under balmy palm trees, they write together 3000 miles apart.
Elaine lives in Florida and Margarete lives in California with family, friends and pets. 
---

RIGHT in SIGHT
If you like reading a laugh out loud, tear jerking mystery, you will enjoy this cozy puzzling story about a sassy newspaper columnist, Kate Lambrose.
After she receives a cryptic poem asking her to locate a missing person, she discovers the mystery is a perfect distraction from her grief over the loss of her husband who isn't dead, but gay.
While Kate juggles her teenage daughter's angst over her father's revelation, surprise visits from family, and keeping her at-arms-length boyfriend at arm's length, she unriddles the cryptic poem and discovers a 40-year-old murder.
Unknowingly, she befriends the killer who targets her next.
---

NOWHERE in SIGHT
The curious phrase—your future is in the past—written on the backing board of a misplaced portrait, sounds like a curse to Kate Lambrose.
Nevertheless, Kate highlights the missing family heirloom in her In Sight column, inviting her readers to join in the ornate treasure chase.
Kate's future becomes one puzzle after another when a mystery caller claims the portrait of Grandmother Petra belongs on their family tree.
While Kate hunts for clues to locate the portrait, she struggles with family challenges, and yet another cry for help to unearth the stench at Glenwood cemetery.
But wait! Legal troubles arise when an anonymous person threatens to take Kate to court and someone follows her leads.
As Kate dons her hero cape, she puts to rest her past relationships to embrace romance with one of Yardman's finest.
With a cop as backup, and Luanne at her side, Kate becomes a target not once, but twice!
---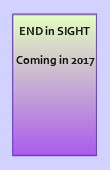 END in SIGHT
In plot mode!
Promoted to her dream job of Investigative Reporter, Kate Lambrose lands her first assignment. The mysterious death of outspoken and long time resident Alba Apache has the Town Council looking culpable. Unfortunately the assignment forces Kate to work with her nemesis, Ondrea Franklin, Kate's possible future sister-in-law.
Dream job or nightmare?  While Kate tries to keep the peace between them, she receives a threatening letter.
Later, Kate faces another struggle when her number one fan lands in jail and accuses Kate for her arrest. When Kate learns that the threat she received was meant for Ondrea,she is torn between sharing that information or not. And if that isn't bad enough, Kate is suspicious of her cop boyfriend, who isn't looking as squeaky clean as she had thought. To make matters worse, George, Kate's ex husband, expects her to referee his relationship with the man he left her for.